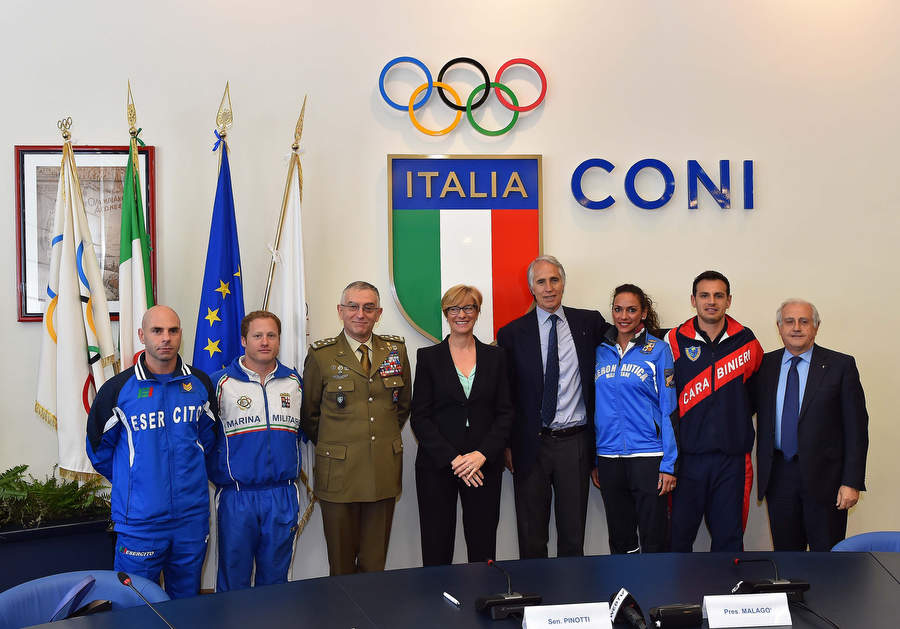 The President of CONI, Giovanni Malagò, the Minister of Defense, Roberta Pinotti, and the Chief of the Defense Staff, General Claudio Graziano, signed today at the Foro Italico a framework agreement and two memoranda of understanding that will renew and strengthen the collaboration between Italian sport and the Ministry of Defense until December 31, 2017. The signing took place in the presence of the Secretary General of the Olympic Committee, Roberto Fabbricini, and the Deputy Secretary and Head of the Olympic Preparation, Carlo Mornati. Also attending the event were the Olympic gold medalist Carlo Molfetta (Taekwondo) of the Carabinieri, Elisa Santoni (Rhythmic Gymnastics) of the Italian Air Force, Tommaso Marconi (Diving) of the Italian Navy and Giuseppe Giordano (Shooting) of the Italian Army.
The sports world was represented by the Vice President of CONI, Luciano Buonfiglio (President of FICK), the CEO of Coni Servizi, Alberto Miglietta (Chairman of the Badminton Federation) and the Federal Presidents Renato Di Rocco (Cycling), Alfio Giomi (Athletics), Gianfranco Ravà (Timekeepers), Enfried Obrist (Shooting), Francesco Purromuto (Handball) and Ugo Claudio Matteoli (Sport Fishing).
President Malagò described the signing of the Protocol as "a historic moment, a landmark in the journey we are making together. The world of sport in Italy is comprised not only of the territory, sport associations, sports clubs and volunteers, but also of the best military sports groups. The whole world envies us for this formula. We are very happy with this collaboration. It is a dialogue focused on meritocracy which formalizes the route we have taken and projects us into the future".
Minister Pinotti, officially invited to the Games in Rio in 2016 by President Malagò, thanked the CONI for its hospitality and expressed the satisfaction of the Ministry of Defense with the agreement. "The meeting between the sports world and the military world is a natural one: in both, sacrifices must be made to achieve results. The effort that I am asking the Olympic Committee and our athletes to make is to convey to all Italians the message that the armed forces are serving the country and must be perceived as friends: the uniform should not intimidate. Unfortunately, in Italy there are people wondering what good the armed forces are, invoking a cut in military expenditure: there is still a huge distrust towards the military world. For us, it is important to say that the armed forces want to help the sports world".
"Currently", said the Chief of the Defense Staff, General Claudio Graziano, "there are 530 high-level athletes coming from the military. We have won many medals in the Olympics, the World Cup, and the national championships: those are the tangible results of a great job. Our sports teams are one of the excellences of the Ministry of Defense".