Italy gains 13 medals with Soldati (silver team in Triathlon). Azzurri today in field.
Published: 26 August 2014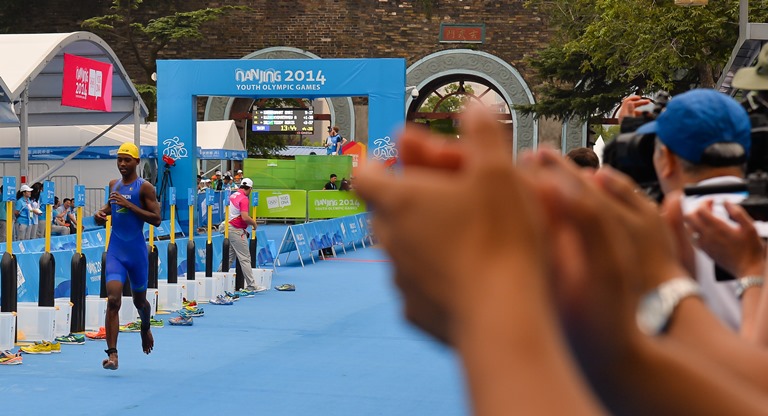 After 5 days of competition at YOG, Italia Team gains the medal number 13. In his birthday (17 years old) friulan Giulio Soldati wins the silver medal of Triathlon with team Europa3 in relay race of mixed team continents. Supervised by coach Alessandro Bottoni, the first italian triathlete to compete at Olympic Games with his first appearance in Sydney 2000, Soldati, with the personal time of 41.24,
contributes to score the general time of 1:22:30 with British Sian Rainsley, Spanish Carmen Gomez Cortes, and Hungarian Bence Lehmann. Gold medal went to team Europa 1, leading with the time of 1:22:17. The current situation in the other facilities is the following: at Nanjing Olympic Sport Centre Stadium the qualifying turns of track and field with Prinetti Anzalapaya ( w. hammer throw), Fabbri (m. weight throw), Reina (2000 w. siepi) and Di Blasio (m. hammer throw) goes on. Pair beach Volley Irene Enzo and Michela Lantignotti contended with Latvian Graudina / Kravcenoka in the 4th qualifying match. Sprint relay race with all ships at Xuanwu Lake Rowing- Canoeing Venue. About Italy, we have seen Riccardo Peretti and Riccardo Mager in Pair (2-) and Arianna Mazzoni in women Single Sculls. Golf - male and female matches are awaited at Zhongshan international Golf club. Azzurri Virginia Elena Carta and Renato Paratore will stand important chances. Swimming - in qualifying turns we will see Ceracchi (50 fs w) Bori and Di Fabio (100 fs m), Tarzia (100 bs w). Taekewondo - Marina Rizzelli chases a final match in category + 63 kg ( women). Table tennis - Giorgia Piccolin gets back on track with the admission turn in mixed pair, while Marco Suppini (shooting sport) is engaged in team's qualification with Rifle.