Italia Team acts as ambassador for quality Italian extra virgin olive oil for Tokyo 2020
PARTNERSHIP CONI–ISMEA–MIPAAF
Published: 10 November 2020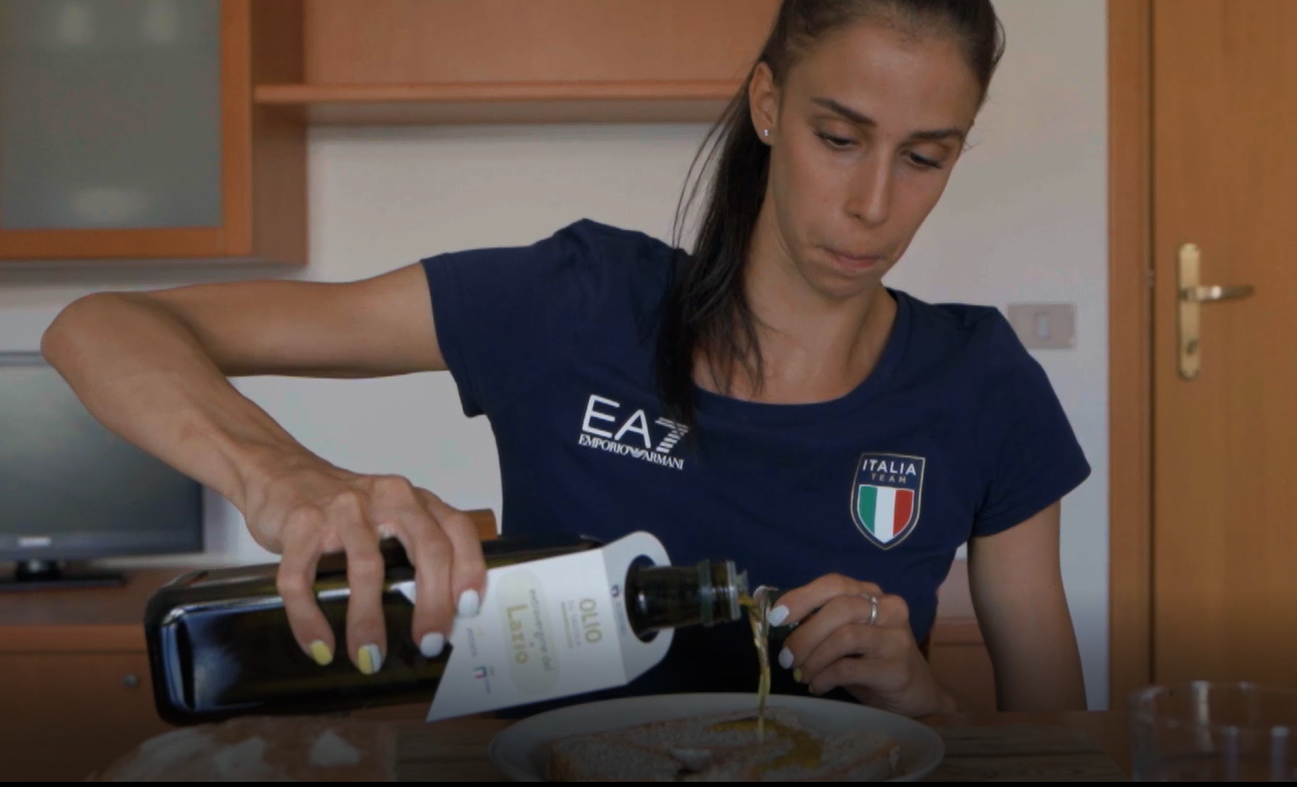 Thanks to the CONI-Ismea-Mipaaf partnership, the world of sport is also taking to the field to promote one of the symbolic products of the Mediterranean diet. The initiative is part of the institutional communication campaign "Olio su tavola - I capolavori dell'extravergine" ("Oil at the table - The masterpieces of extra virgin olive oil"), promoted by the Ministry of Agricultural, Food and Forestry Policies and carried out by Ismea.
Six Olympic athletes have been chosen to act as ambassadors of the extra virgin olive oil from their territory: Tuscan fencer Alice Volpi, twice world gold medallist; Abruzzo beach volleyball champion Paolo Nicolai, silver medallist in Rio 2016; European boxing champion Irma Testa from Campania; Ligurian water poloist Stefano Luongo, who took gold at the 2019 World Cup in South Korea; Apulian Vito Dell'Aquila, bronze medallist at the Taekwondo World Cup in South Korea in 2017; and Roman Martina Centofanti, three-time world gold medallist in rhythmic gymnastics in Lazio.
The young athletes are the key players of six promotional videos, which will be distributed from November on Coni and Ismea social media. The initiative is part of the institutional communication campaign "Olio su tavola - I capolavori dell'extravergine" ("Oil at the table - The masterpieces of extra virgin olive oil") promoted by the Ministry of Agricultural, Food and Forestry Policies and carried out by Ismea.
The aim of the Campaign is to contribute to the development of a culture linked to extra virgin olive oil, which encourages more attentive and conscious buying behaviour and promotes greater knowledge of the high-quality and varied immense regional deposit, as proven by the presence of over 500 cultivars and as many as 48 PDO and PGI oils.
Launched in 2019, the communication campaign is involved on several fronts, from the web series to online events, guided local tastings and media campaigns in the press, online, on the radio and on TV.
Thanks to the contribution of the Italian National Olympic Committee (CONI), extra virgin olive oil has a twofold value: not only is it a fundamental ally for our well-being and an emblem - together with sport - of a healthy and conscious lifestyle, but it is also a source of real national pride, much like the athletes representing the Italian Team for Tokyo 2020. The images of the institutional video in which sportsmen, olive growers and oil millers are symbolically united in a metaphor that evokes the restart and reintroduction of Italy in a difficult period, such as the present, speak for themselves.
"We give thanks to the world of sport," said Minister Teresa Bellanova, "and to the champions who have chosen to be ambassadors and witnesses of an example of our quintessential excellence: extra virgin olive oil. We thank them, because their excellence, their faces and their voices here as elsewhere can make a difference in consumer choices, in speaking to the new generations, and in transparent and correct information. Italy boasts over 500 cultivars, an unrivalled heritage of biodiversity that we must be able to fully put to good use. knowing full well that appreciation of our production and protecting the landscape go hand in hand. By closing the CAP negotiations in recent weeks, we have achieved important results in this area, too. We have tools that allow us to traverse an important path of revitalisation and modernisation. This requires maximum consultation and the active participation of all actors in the supply chain. The alliance with consumers is strategic, which I hope will guarantee these exceptional ambassadors and this information campaign with the right attention and success they deserve".
"The Italia Team represents the excellence of Italian sport," commented CONI President, Giovanni Malagò, "and our athletes are key representatives and ambassadors of our country on international stages, starting from the greatly-anticipated and coveted Tokyo 2020. They are not only champions who excel with regard to their results, but they are also true tributes of 'made in Italy' worldwide. Extra virgin olive oil is also a symbol of Italian excellence and is the basis of the diet of our Olympic athletes. It is therefore natural for CONI and the Italia Team to team up with the Ministry of Agriculture, Food and Forestry and Ismea in this campaign that promotes our masterpieces. Sport and proper lifestyle also take the field together to challenge sedentarism and the diseases it causes. Behind every success there is fatigue, sacrifice and self-sacrifice: a mutual commitment for our champions and our olive growers, who are working hard to keep Italy at the top of the world".
"Extra virgin olive oil is one of the symbolic products of our diet; suffice it to say that Italy is the world's leading consumer, as well as being the second largest player in terms of production and exports," stressed Raffaele Borriello, Director General of ISMEA. And yet, unlike wine, which over the last 30 years has built up a dense fabric of values around it, oil is still often perceived today as an undifferentiated commodity, for which it is above all the pricing that guides purchasing decisions. Recent Ismea surveys tell us, however, that in the last 10 years something has changed in the consumer's perception and experience of extra virgin olive oil, and the communication campaign we are carrying out aims to amplify this change so that oil finds the value it deserves, and the consumer is able to make informed choices".